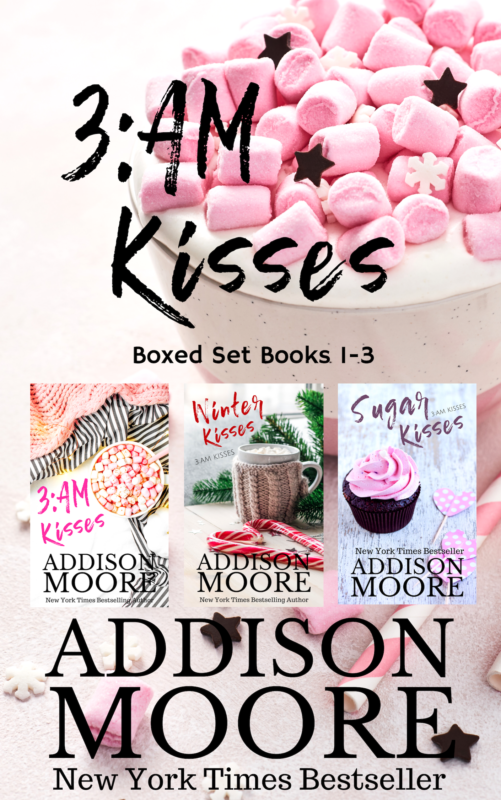 She's my best friend's kid sister. I don't do relationships, and I sure as hell won't do Baya. He's a player and my brother's roommate. Bryson is a no-fly zone. I should want nothing to do with him--but that kiss we shared...
3:AM Kisses (3:AM Kisses #1)
Baya Brighton is looking forward to her first year at Whitney Briggs University, new friends, dorm life, and finally being close to her brother again. Love is the last thing on the list, but when Baya meets her brother's roommate she begins to have thoughts and feelings that make even her blush. Bryson Edwards has a secret he prefers buried in the past and long forgotten. He keeps himself busy with the important things, loose girls, fast cars, and long nights working at the string of bars his family owns. When his roommate's sister shows up on the scene, she's far too innocent and sweet for him but he can't shake Baya out of his mind and worse, it looks like she's seeping into his heart as well.
Baya seems determined to show her brother she's not a little kid and equally determined to use Bryson's body to prove her point. It's been made pretty clear that Baya is off limits to Bryson but their undeniable sparks explode into a whole lot more than just a few 3:AM KISSES.
Winter Kisses (3:AM Kisses #2)
Laney Sawyer used to believe in love and all of the trappings that happily ever after could provide until Ryder Capwell crushed her heart. When Laney is auctioned off as a prize at the drama department fundraiser the last person she expects to trade cold hard cash for her company is Ryder.
Ryder Capwell is in love with Laney Sawyer. One year ago she walked out of his life and took the light of his world right along with her. Ryder would do anything to have another chance with Laney, including purchasing her for the evening courtesy of Whitney Briggs University, and he does just that.
One thing leads to whiskey, which leads to a one-night stand. She thinks it's revenge sex—he thinks its make-up sex. Things can only go wrong from here.
Sugar Kisses (3:AM Kisses #3)
Sugar Kisses—nothing tastes sweeter than revenge…
Roxy Capwell couldn't be more miserable. She just had her heart stomped on by her cheating boyfriend, and the last thing she's looking for is love. She hates men.
Cole Brighton couldn't be happier. He's a player of the highest order, there's not a girl at Whitney Briggs University that he can't tag and bag. He loves the ladies.
Roxy's dream is to own and operate her own bakery one day, but with no oven in her dorm, and a lucrative baking competition on the horizon, she agrees to move in with her best friend's brother, the obnoxious, womanizing, Cole Brighton.
Between the heavenly scent of baked goods, and Roxy's perfect body strutting around the apartment, Cole can't think straight. So when Roxy's ex starts sniffing around again, Cole volunteers to play the part of her new boy-toy and things get heated both in and out of the kitchen.
Roxy discovers she might not hate every man on the planet, and Cole discovers nothing tastes better than Roxy and her late night SUGAR KISSES.
Roxy is a ball of stress and anger.
Cole is all ego and sex.
Their attraction is unstoppable.
And when their bodies collide—its combustible.