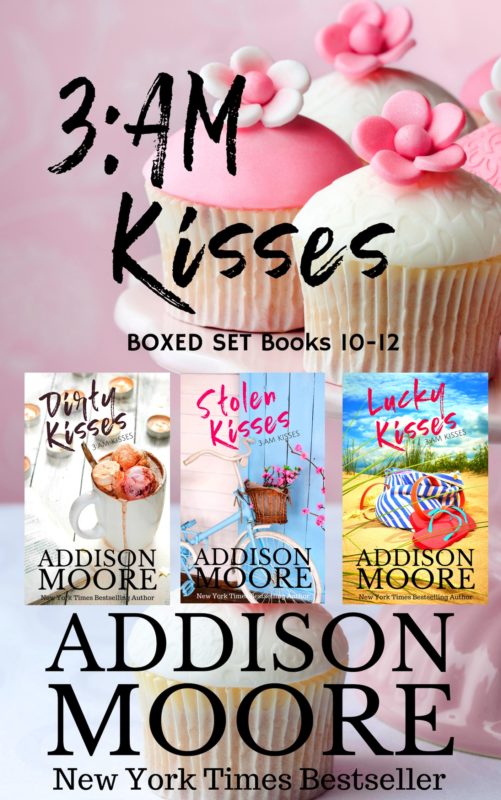 ***THREE BOOKS!*** ***Romantic Comedy*** This Boxed set includes, Dirty Kisses (3:AM Kisses 10), Stolen Kisses (3:AM Kisses 11), Lucky Kisses (3:AM Kisses 12)
Dirty Kisses (3:AM Kisses 10)
Jet Madden is notoriously good in bed. It's not a fact I can confirm through experience, but, according to the lust-driven grapevine at Whitney Briggs University, he's a sexual force to be reckoned with—many, many times in a single savory night.
The day my world crashes around me, I'm shuttled off to live with the ratted, tatted, roided-up hulk. Regardless of the fact, I'll do anything to keep my distance from that egotistical, giant ball of muscles. The last thing I want is to become another notch on that totem pole of seduction he keeps tucked in his pants. The very last thing I want is to befriend or, God forbid, fall for Hollow Brook's resident wick dipper.
But that sheet rock chest, those steel cut abs—a girl can only hold up her resistance for so long before she slowly goes insane. I'm trying to resist him, really I am, but I have to see if those rumors are true.
Each night I dream of falling asleep in Jet Madden's arms, and each day I pretend as if I loathe his existence. It's all a lie. We're a lie. Staying away from Jet Madden is proving impossible. My body demands to collide with his, even if all it will ever amount to is our dirty little secret.
Dirty Kisses
He's afraid to get too attached.
She's afraid of losing control.
Stolen Kisses (3:AM Kisses 11)
Tall, tatted, and drop dead gorgeous? Grant Jones is sex on a stick —which explains why every female at Whitney Briggs University gravitates in his direction. Every girl wants to bed him, and every guy wants to be him. Grant is the whole package, and I cannot wait to do a little unwrapping.
Ava is the most beautiful girl I have ever laid eyes on. But I've tried relationships, and they don't work out for me. The truth is, I've never let the deep wound of losing my sister, Steph, heal properly. I'm taking a break from relationships to mend my heart the right way.
But Ava isn't giving up. She's sweet, and fun, and that soul melting smile of hers gets me every time. Maybe letting Ava in will be far more healing than trying to do this on my own. Stephanie would want me to be happy. I know she would.
And just as soon as a ray of happiness enters my world, I'm faced with the crushing truth about who Ava really is. Instead of healing, I've managed to split my heart wide open. The devastating truth is, Ava and I were never meant to be in the same room—let alone spend a lifetime together. Unless another twist of fate intervenes, our time together will never amount to more than a few Stolen Kisses.
Lucky Kisses (3:AM Kisses 12)
Lawson Kent is a jackass of the highest order. Sure he's got the face of a god and the body of a prisoner dedicated to pumping iron, but every time he's in my way my blood boils.
His obnoxious mug seems impossible to escape. So when we're paired together to work on the community interaction project, we call a truce. In fact, the more I hang out with Lawson, the more it seems he really gets me. Not too many people do.
Lucky Madden is a mouthy piece of work. Yes, she's gorgeous to a fault and that's precisely why her overprotective, tatted up brother, Jet, pays me the big bucks to make sure none of the idiots at Whitney Briggs University land her horizontal. Only, too bad for me, Lucky Madden is the last person I want to hover over every free chance I get.
Then one night, she cuts the mouthy routine and does something far more productive with those lips, she kisses me. Now I can't get Lucky Madden out of my mind. I'm addicted
Order Now!