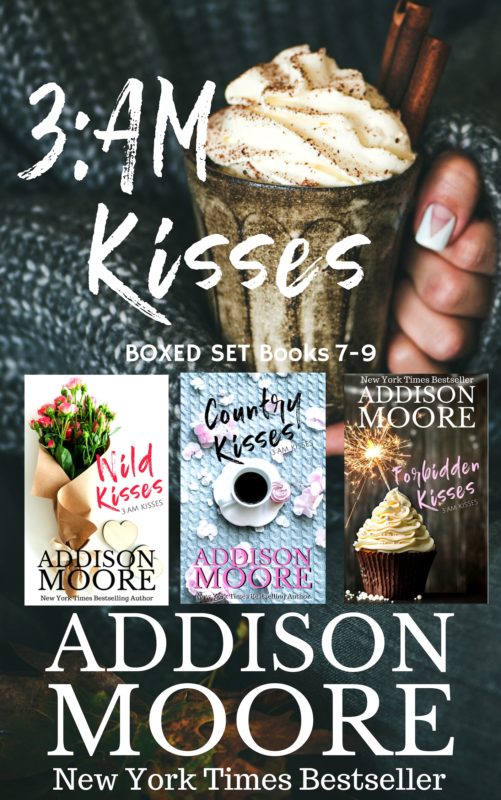 ***THREE BOOKS!*** ***Romantic Comedy*** This Boxed set includes, Wild Kisses (3:AM Kisses 7), Country Kisses (3:AM Kisses 8), Forbidden Kisses (3:AM Kisses 9)
Wild Kisses (3:AM Kisses 7)
Piper thinks Owen Vincent is a tool. Once they finish up with their internship, she never wants to see him again.
Piper James' first year at Whitney Briggs is starting off great, new friends, a potential sorority, and plenty of guys to choose from. Once she secures a spot in Alpha Chi, she'll have the greatest freshman year on record. But it just takes one look at the Alpha Chi "hit list" of things she needs to do to get in and she know there's trouble—and trouble's name is Owen Vincent.
Taming a player sounds impossible. Owen is the only player she knows and he certainly fits the bill, cocky, too many notches to count on his bedpost, and an aversion to relationships. Making Owen believe she wants him is pretty low, even if this entire fling is just a means to an end. But now she can't stop thinking about him. Yeah, he thinks he's God's gift to women, but now a part of her is kind of starting to agree. Girls are still dripping all over him like honey. Piper thinks there's no way he'd be interested in a commitment with her. Maybe Alpha Chi isn't what she wants. Maybe it's Owen?
It's a brand new year at Whitney Briggs and things are about to get wild.
Country Kisses (3:AM Kisses 8)
I fell hard for Cade the moment I met up with those bedroom eyes of his, but it's not my heart I'm interested in gifting him.
Cade James is my best friend's brother, well bred and well bed. To him I'm just another plaything, but I can't blame him for that. I'm not much to look at, and there's not a man on the planet that would be willing to make me his own.
But Cade is pulling me deeper, asking questions, wanting to know what makes me tick--wanting to know who gave me the scar that takes up the landscape over half my face. Cade wants far more than what I'm willing to give him.
If I let him in, let him into the most sacred chamber of my heart, I might end up with a wound far greater than the one that left that scar.
The wound Cade James has the power to inflict could never heal.
Forbidden Kisses (3:AM Kisses 9)
Rex Toberman is obnoxious and pretentious. So what if he's the star quarterback? So what if my father is dating his mother? I can't wait until he's out of my life for good.
The day our parents announce their impending wedding becomes the worst day of my existence. Not only has Rex cemented himself in my social circle, but he's about to cement himself into my family.
I don't trust his mother. And I don't want anything to do with her egotistical, womanizing son, but deep down the only way to get rid of them both is to do something unimaginable with Rex himself. I'm playing with fire, dancing in the flames of his wicked grin, and soon enough I'm melting. The last thing I want is to become another victim of Rex Toberman's egotistical, womanizing ways.
But there's something about those bedroom eyes, that lewd smile, that body made of steel I cannot resist. Yes, getting rid of my soon-to-be stepbrother is tougher than I ever imagined—especially now that I never want him to leave.
Order Now!