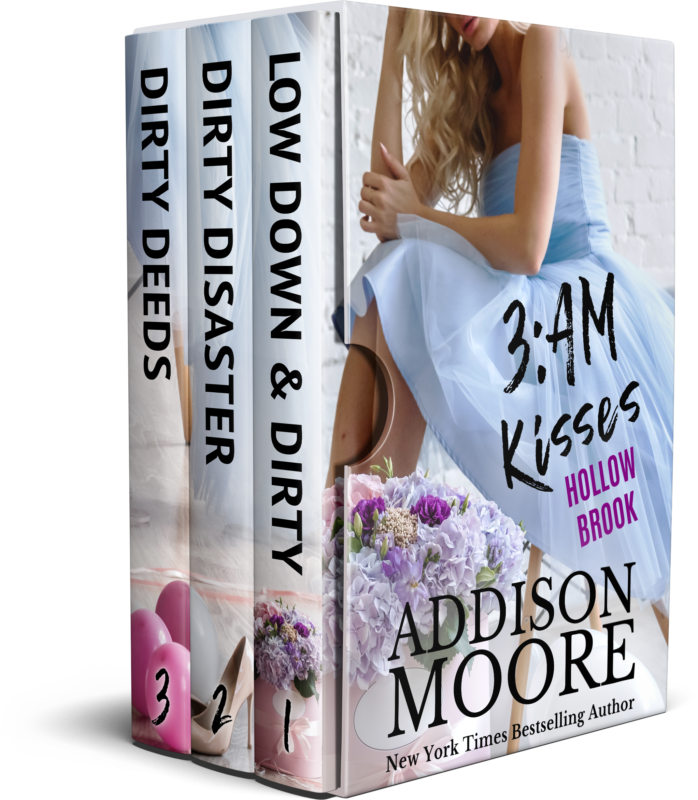 ***THREE BOOKS!*** This Boxed Set includes Low Down & Dirty (Low Down & Dirty 1), Dirty Disaster (Low Down & Dirty 2), The Social Experience
Low Down & Dirty (Low Down & Dirty 1)
***A best friend's brother romance*** ROMANTIC COMEDY****
Meet Levi Masterson…
I've never had a problem with the ladies.
But my life just landed in a blender and my head is still spinning. So when Harlow Hartley comes jackknifing into my world like a tornado, I try to steer clear. She's my sister's best friend. She's having a tough time right now, and I was asked to let her move in with me until she can get on her feet. With Low at the house, dripping with attitude, dancing around in those tight jeans, that T-shirt that stretches in all the right places, I'm ready to lose what's left of my mind. Sure she's beautiful and smart, but she's mouthy and feisty as can be. As tempted as I am to try to land my mouth over hers, my sister made it clear that Low is off limits. As much as I'd like to think that's a good thing, I can't seem to shake the need to have her. Maybe it's time to scratch that itch—something quick and dirty that takes the edge off for the both of us and we can call it a day. But nothing in life is ever that simple—sometimes your heart gets in the way.
***A 3:AM Kisses Series *SEXY* spinoff! Welcome to Hollow Brook!***
Dirty Disaster (Low Down & Dirty 2)
***SECOND CHANCE ROMANCE*** Romantic Comedy *CAN BE A STANDALONE*
Meet Axel Collins…
I've had my fair share of women. I'm not ashamed to say I've sent them all away with a smile on their face.
Just one night is all I need to put that spring in their step and leave them begging for more. But more isn't something I'm willing to give them. I don't let them stay the night, and I don't do relationships—not since Lex, not after Lex.
But Lex comes barreling into my world like a hurricane, destroying everything in her path as she makes her way back into my life—she never did leave my heart.
No, now that Lex is back I'm not letting her go—not out of my world or out of my bed. She's back and this time I'm determined to keep it that way.
The Social Experiment
Two Strangers. Six Weeks.
*A romantic comedy from the New York Times bestselling author Addison Moore*
Rowen Garret is a jackass of the highest order. I knew signing up for some experimental dating experience would not pan out to be a good thing, but after kissing a stranger in the dark for five solid savory minutes only to have the lights come on and expose him for the jerk he is, I have the sudden urge to strangle my new roommate who talked me into this nightmare.
Sophie Meyer is a handful. I should know, I hung out in her living room for so long I became a fixture. But that was when her older brother, Braden, and I actually got along, before he snatched my long time girlfriend out from underneath me and stopped speaking to me as if I were the one who hijacked his life. And now here I am with his feisty little sister in my arms, her face lit up in horror at the thought of what we've just done. I would never kiss Sophie Meyer under normal circumstances, never even entertain the thought. Nope, this was a bad idea through and through. This is one social experiment I never want to think about again. But one thing is for sure. I will never forget that kiss.
Two strangers, six weeks, the social experiment says the odds are in their favor, Rowen and Sophie says they aren't.