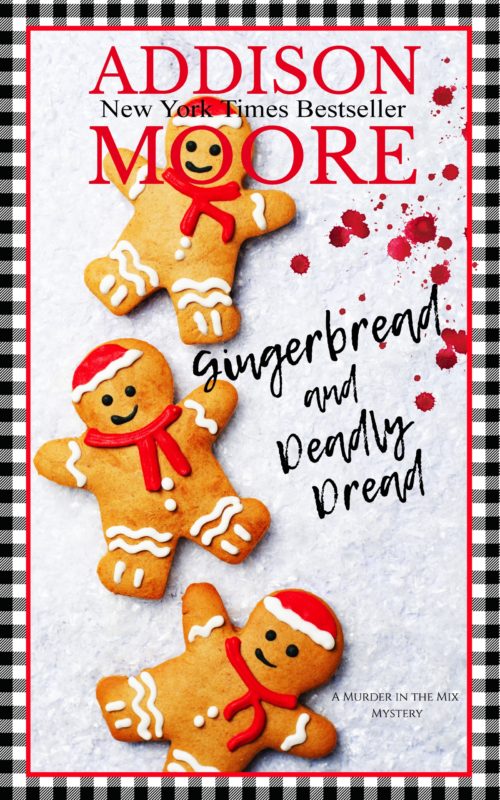 A baker who sees the dead. One too many suitors.
And a killer. Living in Honey Hollow can be murder.
This is a standalone novel. *A laugh out loud cozy mystery by New York Times Bestseller Addison Moore* Each book in the series can be enjoyed on its own!
My name is Lottie Lemon and I see dead people. Okay, so I rarely see dead people, mostly I see furry creatures of the dearly departed variety, aka dead pets, who have come back from the other side to warn me of their previous owners impending doom.
And that horrible scenario happens to be playing out at the moment where I see a beautiful long departed pooch hovering around a questionably two-timing Santa and all his naughty-hottie elves. Quite frankly, it's a terrifying sight considering the fact the fantastic phantasm is an ominous harbinger for its previous owner. So when I find my sister's boyfriend face down in the snow with a handful of my tasty gingerbread treats I'm not only sorry for him, but I'm very sorry that I had a blowout with him in front of the entire town of Honey Hollow. And just like that, I get the one thing for Christmas I did not ask for—a number one spot on the suspect list. I have a feeling this is going to be one Christmas I'd rather forget.
Lottie Lemon has a brand new bakery to tend to, a budding romance with perhaps one too many suitors, and she has the supernatural ability to see dead pets—which are always harbingers for ominous things to come. Throw in the occasional ghost of the human variety, a string of murders, and her insatiable thirst for justice, and you'll have more chaos than you know what to do with.
Living in the small town of Honey Hollow can be murder.
From the NEW YORK TIMESand USA TODAYbestselling author, Addison Moore—Cosmopolitan Magazine calls Addison's books, "...easy, frothy fun!"
Order Now!