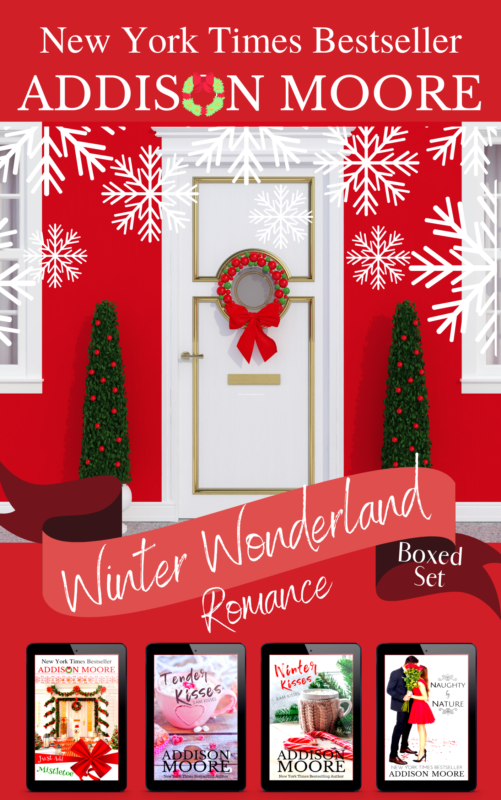 Four fabulous romantic comedies all set in a frosty winter wonderland. Cozy up to these swoon worthy romances that are sure to give you all the warm fuzzies you'll need to keep yourself heated on a cold winter's night. This boxed set includes: Two Christmas tales and two winter hijinks. Happy holiday reading!
From New York Times Bestseller, Addison Moore
Books included: Just Add Mistletoe, Tender Kisses (3:AM Kisses), Winter Kisses (3:AM Kisses), Naughty by Nature
Just Add Mistletoe
Graham Holiday has always had the ability to set any girl's heart aflutter. Tall, dark, and vexingly handsome—he is well aware of his superpowers and he isn't afraid to wield them.
Missy Winters, Gingerbread Colorado's unofficial matchmaker, is busy running her bakery when her brother's best friend, Graham, waltzes back into town. With only weeks until Christmas Eve, Missy needs to work harder than ever to fill her holiday orders. The last thing she needs is obnoxious Graham Holiday getting in her way. To top it all off, Sabrina Jarrett, her longtime nemesis is threatening to have her father hike the rent on the bakery.
In a vindictive yet highly therapeutic move to rid herself of both unwanted parties, Missy schemes to pair Sabrina and Graham—determined to crown them as Gingerbread's newest power couple by the time Santa takes flight. But a curveball gets thrown her way, and she ends up seeing far more of Graham than expected. Suddenly, Missy isn't so hot on giving Graham to Sabrina with a shiny red bow. There are some gifts that Missy might want to keep for herself.
Tender Kisses (3:AM Kisses)
Nolan Knight is the personification of a hot billionaire stud. Broad shoulders, bedroom eyes, a mouth that knows how to navigate its way around the female anatomy—Nolan Knight has all of the sexual bases covered. But he broke my heart years ago, and now we're both back in Evergreen Lake at the scene of the crime.
I'm not looking for anything from Nolan—with the exception of him staying out of my way. But that's one thing he doesn't seem capable of.
It just takes one look, one touch, and I know I'm in trouble. The only steadfast rule I have is—do not let Nolan Knight anywhere near my heart.
That should be easy enough.
The problem is, Nolan never left that sacred place.
Now if I could only figure out a way to evict him…
Winter Kisses (3:AM Kisses)
Ryder Capwell crushed her heart.
When Laney is auctioned off as a prize at the drama department fundraiser the last person she expects to trade cold hard cash for her company is Ryder.
Laney Sawyer used to believe in love and all of the trappings that happily ever after could provide until Ryder Capwell is in love with Laney Sawyer. One year ago she walked out of his life and took the light of his world right along with her. Ryder would do anything to have another chance with Laney, including purchasing her for the evening courtesy of Whitney Briggs University, and he does just that. One thing leads to whiskey, which leads to a one-night stand. Things can only go wrong from here.
Naughty by Nature
One look from Jax Stade promises to land even the nicest girl onto the naughty list.
Jax and I used to be best friends right up until he broke my heart. Everyone knows that both Jax and his overinflated ego are well beyond naughty—that face, those eyes, don't get me started on that body made of steel. Every last part of me is bent on revenge. I'll make sure payback is hell for Jax. I just hope I don't end up getting my heart crushed by him twice in one lifetime.
Order Now!