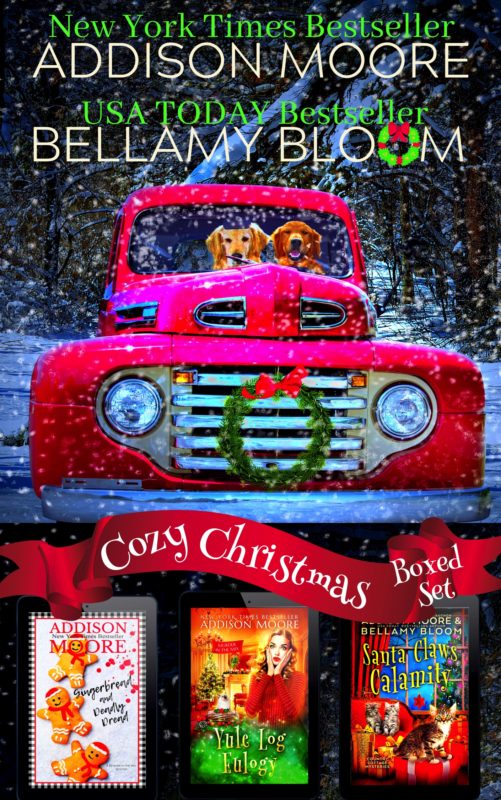 It's the most wonderful time of year—for murder. Grab this cozy mystery boxed set and snuggle up to Christmas with a side of homicide! Read this one today!
A baker who sees the dead. One too many suitors.
And a killer. Living in Honey Hollow can be murder.
Books Included:
Gingerbread and Deadly Dread (Murder in the Mix 4)
My name is Lottie Lemon and I see dead people. Okay, so I rarely see dead people, mostly I see furry creatures of the dearly departed variety, aka dead pets, who have come back from the other side to warn me of their previous owners impending doom.
And that horrible scenario happens to be playing out at the moment where I see a beautiful long departed pooch hovering around a questionably two-timing Santa and all his naughty-hottie elves. Quite frankly, it's a terrifying sight considering the fact the fantastic phantasm is an ominous harbinger for its previous owner. So when I find my sister's boyfriend face down in the snow with a handful of my tasty gingerbread treats I'm not only sorry for him, but I'm very sorry that I had a blowout with him in front of the entire town of Honey Hollow. And just like that, I get the one thing for Christmas I did not ask for—a number one spot on the suspect list. I have a feeling this is going to be one Christmas I'd rather forget.
Yule Log Eulogy (Murder in the Mix 16)
The holidays are upon us, Christmas day is within reach and there are so many parties to cater. The very first one is on the ritzy side of town, and if the snobby socialites weren't enough to make me squirm, stumbling upon a body takes the joy right out of the season. But I'm determined to find the killer and salvage what I can of this holiday fiasco. However, with the ghost of a reindeer who happens to have a hankering for whiskey, and a convict on the loose, it's going to be tougher than it looks. To top it all off, I'm quickly burying myself in an avalanche of lies.
The snow is falling, the sugar cookies are baking and mistletoe abounds. The holidays have hit Honey Hollow. And it's beginning to look a lot like murder.
Just Add Mistletoe (Christmas in Gingerbread, Colorado)
Graham Holiday has always had the ability to set any girl's heart aflutter. Tall, dark, and vexingly handsome—he is well aware of his superpowers and he isn't afraid to wield them.
Order Now!