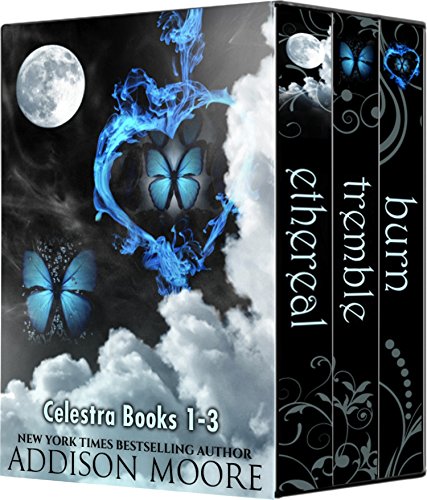 This Boxed Set includes the first 3 books in the Celestra Series, Ethereal, Tremble, and Burn
ETHEREAL
Sixteen year-old, Skyla Messenger is a dead girl walking.
When her newly remarried mother moves the family to Paragon Island, to a house that is rumored to be haunted, Skyla finds refuge in Logan Oliver, a boy who shares her unique ability to read minds.
Skyla discovers Logan holds the answers to the questions she's been looking for, but Logan's reluctance to give her the knowledge she desires leaves her believing Logan has a few secrets of his own.
Skyla's bloodlines may just be connected to the most powerful angelic beings that roam the earth, and the more she knows, the more danger she seems to be in.
Suddenly an entire faction of earthbound angels wants her dead, at least she still has Logan, or does she?
TREMBLE (Celestra Series Book 2)
Sixteen year-old, Skyla Messenger is determined to bring back the dead.
For Skyla, being an angel from the coveted Celestra faction hasn't been easy.
An entire band of wicked angels is after her blood, a Sector is after something far more sinister, and her newfound powers lead her on a quest to save her dead father.
Skyla and her boyfriend Logan try to piece together a plan to take down the Countenance in order to maintain their relationship, but will Skyla's burgeoning feelings for Gage get in the way?
And when Skyla decides to use her powerful blood to change the fate of another deceased soul, just who is going to stop her?
Burn (Celestra Series Book 3)
Sixteen year-old, Skyla Messenger is having difficulties with the living and the dead. With Chloe's diary in her hands, Skyla embarks into the mind of one of Paragon's most twisted former residents. After accidentally kick-starting the faction war, Skyla finds herself in more danger than ever before. So, when Marshall offers her a taste of the gift of knowing, Skyla attempts to use it to alter the outcome of future prophecies. And now that Skyla's love life seems to involve one boy too many, she must choose who to be with. If she waits too long, the decision just might be made for her.