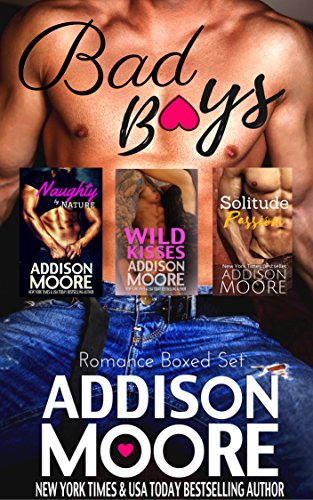 The Bad Boys Boxed Set includes 3 complete novels that are far more naughty than they ever are nice.
The following three novels are included:

*Naughty by Nature

A STEAMY romantic comedy!

One look from Jax Stade promises to land even the nicest girl onto the naughty list. Jax and I used to be best friends right up until he broke my heart. Everyone knows that both Jax and his overinflated ego are well beyond naughty—that face, those eyes, don't get me started on that body made of steel. Every last part of me is bent on revenge. I'll make sure payback is hell for Jax. I just hope I don't end up getting my heart crushed by him twice in one lifetime.

*Wild Kisses (A 3:AM Kisses novel)

Romantic Comedy

*All 3:AM Kisses books can be read as standalone novels!

Piper thinks Owen Vincent is a tool. Once they finish up with their internship, she never wants to see him again.

Piper James' first year at Whitney Briggs is starting off great, new friends, a potential sorority, and plenty of guys to choose from. Once she secures a spot in Alpha Chi, she'll have the greatest freshman year on record. But it just takes one look at the Alpha Chi "hit list" of things she needs to do to get in and she know there's trouble—and trouble's name is Owen Vincent.

*The Solitude of Passion (A Second Chance Romance)

A heart wrenching standalone contemporary romance.

I loved Mitch with all my heart and then he was gone.

It was his enemy, Max Shepherd, who helped me walk through that fire. And when the time came to move on, I married him as well. That's usually where the story ends, where life continues at its own unsteady pace.

But Mitch came back seemingly from the dead. He's seen what I've done and who I've done it with. And now I have a choice to make--only I can't seem to make it and life continues at its own unsteady pace.

I had wished Mitch were alive again--and now I have one too many husbands and an impossibility to contend with. It will all work out in the end, as soon as I figure out how to slice my beating heart in two.
Order Now!